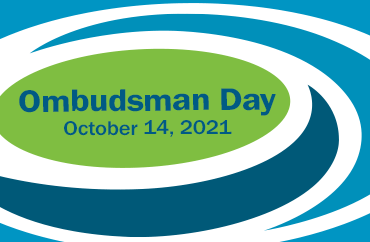 October 14 is Ombudsman Day
October 14, 2021 is Ombudsman Day, also known as Ombuds Day, and is recognized by the International Ombudsman Association. It began in 2018 as a way to let people know what ombudsman (or ombuds) do and how we help the public. This year's theme is exploring options to resolve conflict together.
Here in Saskatchewan, as a provincial ombudsman office, we receive complaints from the public about provincial and municipal government programs and services, including most health services.  What types of complaints can you bring to us?
It's an administrative decision. In other words, it's about the way a government program or service was administered or carried out.
It affects you personally.
You have a final decision from the government entity.
People who have heard of our Office may know that we do investigations, but we can also have an informal role in helping to resolve complaints and the conflicts that are often part of them. When we receive a complaint and have determined that it is in our jurisdiction, we may decide to resolve it using Early Resolution, an informal process, or we may decide that an investigation is more appropriate. Here is an overview of two approaches.
Early Resolution
Informal
Shorter resolution time (usually a few days up to a few weeks)
Process includes reviewing legislation and relevant rules, asking questions, reviewing facts, and helping the parties to communicate with each other

Investigation
Formal
Longer resolution time (usually 6 months or longer, depending on complexity and other factors)
Process includes reviewing legislation and relevant rules, gathering and reviewing facts, interviewing relevant parties, analyzing information, and determining whether to make recommendations.
At the end of an investigation, if we are planning to make recommendations, we must provide a draft of our findings to the government entity, so it has an opportunity to comment on our findings and decide whether to follow our recommendations.
If you are dealing with an administrative decision that you think we may be able to look at, contact us at 1-800-667-9787. We are independent, impartial and confidential.