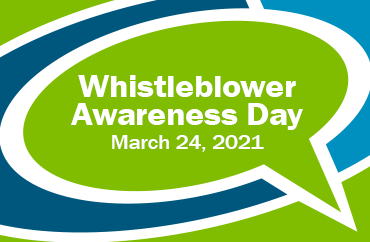 Commissioner Marks Whistleblower Awareness Day
On March 24, 2021, Saskatchewan Public Interest Disclosure Commissioner, Mary McFadyen, is joining with her counterparts across the country in recognizing Whistleblower Awareness Day. Her message to public sector employees is, "It's important for you to know you can speak out safely if you are concerned about possible wrongdoings in your workplace. Today, I want to acknowledge the courage that takes."
Here in Saskatchewan, The Public Interest Disclosure Act protects provincial public sector employees of all provincial government ministries, the Saskatchewan Health Authority, the Saskatchewan Cancer Agency, and many agencies, boards, commissions, and Crown corporations. These employees are protected from demotion, job loss and other negative consequences if they have made a disclosure of wrongdoing, sought advice about making a disclosure, refused to participate in a wrongdoing, or cooperated in an investigation of wrongdoing. Examples of a wrongdoing under the Act include gross mismanagement of funds or an act or omission that causes substantial and specific danger to the environment, or the life, health, or safety of another person. More complete details are available in the Act and on the Commissioner's website.
While McFadyen says most public sector employees will never need to contact her Office, they all need to know how they are protected. She advises, "Visit our website to learn more and if you have questions about something that is happening at your workplace, or if you are not sure what constitutes a wrongdoing under the Act, you can talk to us confidentially. Remember, you are protected when you seek advice."
More information about making disclosures in the public interest is available on our website at https://ombudsman.sk.ca/pidc/. You can use our secure online forms to make a disclosure or a complaint of reprisal. To talk to someone from our Office, leave a message at 1-800-667-9787 and we will respond to your call.